Welcome to the website of the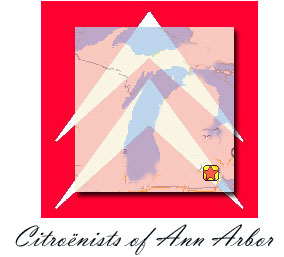 The Citroënists of Ann Arbor is an informal group of Citroën owners that meet in Ann Arbor, MI. Many models of Citroën are represented and there is always room for more.
Coming Events:
Citroenists of Ann Arbor Spring Gathering 2012
Host:Eugene Silverman 734-995-3513
When:
Saturday, May 19 at 10:30 AM
Where:
985 Arthur, Plymouth, MI 48170

Spring is finally here and we will have our Spring Meeting on May 19, this year so you will have plenty of time to get your cits with their zits in shape for our meeting.
Dorothy and John Grace have kindly offered to have us visit their interesting collection of old cars and bikes. These include a few really old Renaults.
So, we'll meet at their collection at 10:30 AM, at 985 Arthur, Plymouth, MI, spend an hour or so there, and move on to the Sidetrack Bar and Grill. at 12 Noon for lunch. The Sidetrack is still at 56 East Cross St. in Ypsilanti.
Please bring your Citroens, other intersting modes of transportation, spouses, spices, and friends, if you have any.


Eugene Silverman
Past Events:
The Cars:
Tech Tips:
Alternate 2CV oil filter choices
George Waterman's Traction Engine saga
In The Press:
The Citrosts in the CitroClub of North America Newsletter Summer 2005
Article about Fall Meeting in the November 2005 2CVGB News
Article about Fall Meeting in Winter 2006 Citrohusiast
Article about Spring Meeting in June 2006 2CVGB News
For More Information:
On the Citrosts contact Gene Silverman
On the website contact the Webmaster
Links:
CounterData.com



Search Advertising Counter
view my guestbook sign my guestbook free guestbook